DIATRAIN Mobility Programme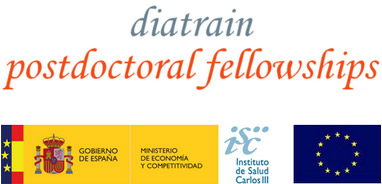 Starting in 2011, the DIAbetes Trans-national Research Advancement for INvestigators (DIATRAIN) is the new institutional mobility framework promoted by CIBERDEM. Enclosed under the FP7-People Co-funding of Regional, National and International Program (FP7-People-2010-COFUND) of the European Commission, DIATRAIN aims to provide worldwide outstanding experienced researchers with unique career development opportunities.
The DIATRAIN mobility framework is structured into two mobility schemes, the Outgoing Mobility Programme (COMP) and the Incoming Mobility Programme (CIMP). Both schemes will provide postdoctoral fellowships, aimed at promoting the mobility of experienced researchers from and to CIBERDEM consortium research institutions.
International researchers may approach any of the available research groups from CIBERDEM through the CIMP mobility scheme, while the COMP mobility scheme may be used by CIBERDEM staff members to develop their research careers abroad.
DIATRAIN will open annual selection processes for both CIMP and COMP schemes, in order to select top-class researchers to benefit from the postdoctoral fellowships.
> This project has received funding from the European Union's Seventh Framework Programme for research, technological development and demonstration under grant agreement no 267248